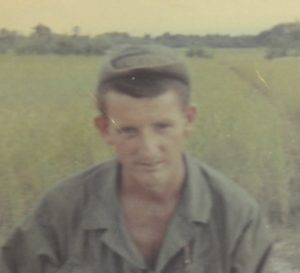 Vernon Alvin Chroge, age 73, of Brampton, passed away Saturday, July 16, 2022 at the St. Francis Hospital in Escanaba, MI.
Vernon was born on July 29, 1948 in Escanaba, MI the son of Wallace and Kathryn (Boyle) Chroge and attended the Gladstone Schools. Vernon was very proud to be a Vietnam Veteran. He served in the United States Army from May 1968 through May 1970 and received the National Defense Service Medal, Army Commendation Medal, Vietnam Service Medal with 2 Bronze Service Stars and the Vietnam Campaign Medal with 60 Device. He also served in the Army National Guard from May 1970 through February of 1972. He then went on to work as a piece cutter in the woods and then cut firewood until he retired.
Vernon was united in marriage to Vivian White on April 20, 1974. He loved all of his family. The "Light of His Life" was spending time with his daughter, Jennifer and granddaughters, Haley and Dylana.
Vernon is survived by his wife, Vivian of Brampton, daughter, Jennifer Chroge of Gladstone, granddaughters, Haley and Dylana Brown, sisters, Beatrice (Tom) Russell of Gladstone, Susan Davis of Escanaba and Barbara Gravelle of Loves Park, Illinois, sisters-in-law, Judy (Dave) Loewenhagen, Debbie Mann and Patricia Chroge, brother-in-law, Keith Freeborn, good friend, Bob Mann and numerous nieces and nephews.
He was preceded in death by his parents, brothers, Don, Glenn and Kenneth Chroge, sisters, Mildred (Dave) Hunt, Pat (Joe) Griffey, Sandy (LJ) Clark and Polly Freeborn, mother and father-in-law, Naoma and Elmer White and brothers-in-law, Mike Davis and Delbert Gravell.
Graveside services will be held on Friday, July 22 at 2:00 PM at the Gardens of Rest Cemetery with Military Honors presented by the Gladstone American Legion Post 71.