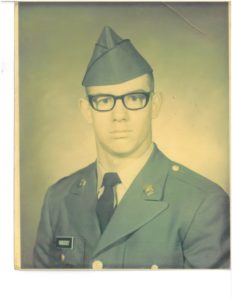 Stephen Robert Makosky, age 68, of Bark River, passed away unexpectedly Friday, May 3, 2019, at his home surrounded by his loving family.
Steve was born in Escanaba on January 3, 1951 the son of Lawrence and Shirley "Billie Ann" (Perryman) Makosky. He was a 1969 graduate of Escanaba High School.
Following high school, Steve enlisted in the United States Army where he proudly served his country in Vietnam. While in service, Steve acquired medals of commendation including the National Defense Service Medal, Vietnam Service Medal with 2 Stars, Vietnam Campaign Medal with 60 Device and the Army Commendation Medal. He was honorably discharged in February of 1972.
On September 9, 1972, Steve was united in marriage to the former Wanda Barcome at St. Anne Church in Escanaba. Steve and Wanda made their home, raised their family and spent many wonderful years together in Ford River (Hyde).
Steve enjoyed camping, four wheeling, bowling, going to the Off- Road Races and spending time with friends and family. In his younger years, Steve enjoyed coaching the Ford River Dragons Wrestling team and was instrumental in establishing the youth wrestling program at the Ford River Elementary School.
In addition to his loving wife Wanda, Steve is survived by:
Children: Shawn (Jessie) Makosky, Shannon (Dan) Johnson and
Sharron Hughes
Grandchildren: Aidan, ShaiLee, Morgan, Olin, Mira, Mallory,
Colton and Blaine
Brothers: Mike (Sharon) Makosky, Joe Makosky,
Gerald (Mary Kay) Makosky, Mark (Stephanie) Makosky
Sister: Mary (Kevin) Julien
Father in law: Basil Barcome
He is further survived by his nieces, nephews, cousins and many good friends.
Steve was preceded in death by his parents, Lawrence and Billie Ann and his mother in law, Zella Barcome.
A memorial gathering to celebrate the life of Steve Makosky will begin on Thursday at 4:00PM at the Plumbers and Pipe Fitters Union Hall in Escanaba. Military rites will be conducted at 5:00PM on Thursday, at the Plumbers and Pipe Fitters Union Hall in Escanaba, with the Gladstone American Legion August Mattson Post #71 and U.S. Army Funeral Honor Guard presiding. Closing prayer services and table grace will follow with Pastor William Rafuse officiating. Food and refreshments will follow and visitation will resume until 8:00PM. Family has requested that all guests dress casually. The Skradski Family Funeral Homes of Delta Country are assisting with arrangements.