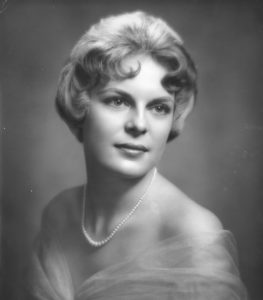 Sandra M. "Butler" Boutilier, age 80, passed away Thursday afternoon, November 19, 2020, at Bishop Noa Home in Escanaba.
Sandy was born June 4, 1940, on the family farm in Perkins, the daughter of Henry and Georgina (Williamson) Soderstrom. She was raised in Perkins and was a 1958 graduate of Perkins High School.
Following graduation, Sandy headed to Milwaukee and attended the Patricia Stevens Career College where she studied modeling and fashion.
Sandy married Norman Boutilier on September 23, 1961 and together they shared 55 wonderful years of marriage and raised four daughters – Brenda, Lori, Gina and Penny.
Sandy was an accomplished seamstress. She worked several years for a local bridal shop in Gladstone and designed and sewed her daughter's prom dresses and wedding dresses as well as some outstanding and memorable Halloween costumes for her five grandchildren. Her years of creating and crafting consisted of making many special holiday gifts with abundant love for special friends and family.
Sandy had a great passion for golf. She spent many summer days on the Gladstone Golf Course leading to 3 club championships. Her love and dedication in serving on GGC's 18th hole expansion committee was her proudest accomplishment. During the winter months Sandy would head west to visit relatives in New Mexico where unforgettable memories of "sister time" were made!
Survivors include:
Daughters: Brenda (Bryan) Ferguson of Fruita, CO
Lori (Kelly) Shea of Gladstone, MI
Gina Sitko of Virginia Beach, VA
Penny (Matt) Mollica of Hudsonville, MI
Sisters: Lois Holm of Albuquerque, NM
Beverley (Larry) Williams of Albuquerque, NM
Grandchildren: Kailee (DJ) Metzer, Carson Shea, Megan Sitko, Adam Sitko
and Anthony Mollica
Sisters in law: Donna Boutilier and Sally Soderstrom
Brother in law: Raymond Boutilier
Special Friends: Judy Tochterman and Rosie Spindler
Also surviving are several nieces, nephews, cousins and friends.
In addition to her parents, Henry and Georgina and her loving husband Norman, Sandra was preceded in death by:
Brother: Willliam Soderstrom
Infant Grandsons: Aiden and Ethan Mollica
Sandra was also preceded in death by several nieces, nephews, cousins and good friends.
Family will receive friends on Tuesday, from 3:00PM to 4:00PM, at the Skradski Funeral Home in Gladstone. Funeral services will follow visiting hours, at 4:00PM, at the Skradski Funeral Home, with Pastor Dennis Meyette officiating. Sandra will be laid to rest in the Gardens of Rest Cemetery in Wells. The wearing of masks and social distancing is appreciated by the Boutilier family. In lieu of flowers, memorial contributions in Sandy's name may be directed to First Lutheran Church Sewing Group in which Sandy was an active and loving member. Skradski Family Funeral Homes of Delta County are assisting with arrangements.