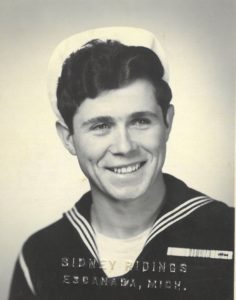 Robert Joseph Pepin age 95, of Escanaba, passed away Saturday, January 18, 2020 at the Iron Mountain VA Medical Center.
Robert (Chisel) was born January 2, 1925 in Gladstone, MI the son of Antone and Eva (Fournier) Pepin.
Robert united in marriage to Elaine Gagnon on October 19, 1947. Together the couple raised their seven children at their family homestead in Flat Rock, Michigan for the past 57 years. Robert and Elaine (age 90) resided together in their family home until this past year.
Robert was draft in the United States Navy in 1943 where he served during World War II on the USS Idaho in the South Pacific. He later received the Military Order of the Purple Heart for the combat wounded.
Robert was a local union painter for the majority of his career in industrial, commercial and residential settings. He spent his later career and early retirement painting many homes in the Escanaba and Gladstone area. He was very hard working always looking to make extra money. His side hobbies were buying & selling scrap metals & antiques. It was usual to find him in the woods on his tractor where he was in his best place. Either cutting firewood for the family homestead or a few cords of pulpwood, sometimes catching him hauling a stick of cordwood out of the woods on his shoulder. He loved the outdoors.
Robert was raised in Gladstone, MI. "The Buckeye" along with his eight siblings by their widowed mother Eva. Robert's father Antone passed away at the young age of 36 due to illness.
Robert enjoyed playing organized city sports in his younger years. He also played hockey for the Gladstone Indians. He told many stories of growing up in the "Buckeye" of Gladstone.
Anyone who knew Robert or spent any time with him knew he loved to tell stories and always made you laugh. He loved singing in the car when traveling and playing jokes on his children and grandchildren. He especially looked forward to the Pepin family Christmas where everyone would take a hayride through the family homestead and celebrate around a large bonfire he prepared for weeks.
Robert and Elaine enjoyed dancing together and were very good at it. When they were on the dancefloor it was typical for the floor to clear while friends and family stood by and cheered. A second favorite past time for Robert was ice fishing where he spent many winter days off Gladstone on Little Bay De Noc catching "jumbo" perch and walleye.
In addition to his loving wife of 72 years, Elaine Pepin, he is survived by:
4 Sons: Raymond Pepin of Rapid River, MI
Richard Pepin of Masonville, MI
Patrick (Christine) Pepin of Escanaba, MI
Bruce (Joan Casanova) Pepin of Iron mountain, MI
3 Daughters: Betty Calouette of Rapid River, MI
Shirley (Tom) Mackey of Niagara, WI
Rosemary (Tim) Driver of Helderberg, NY
15 Grandchildren
31 Great Grandchildren
6 Great Great Grandchildren
And numerous Nieces, Nephews, and Cousins.
In addition to his Parents, Robert was preceded in death by:
4 Brothers
4 Sisters
3 Grandchildren
Son-in-law: John Calouette
And his dog: Rusty
Family will receive friends Friday, January 24, 2020 from 2:00 until 4:00 PM at the Skradski Funeral Home in Gladstone. Military Honors will be presented at 4:00 PM by the Gladstone American Legion.