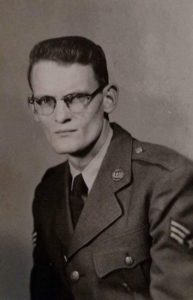 Melvin Burns Way, age 83, passed away Sunday afternoon, October 20, 2019, at his home in Flat Rock.
Melvin was born on January 11, 1936, in Escanaba, the son of the late Burns Millan and Maude Lillian (Dufus) Way. He was raised in Cornell before moving with his family to Oregon where he attended school. On October 24, 1955, Melvin was united in marriage to the former Yvonne Gilbert, in Oregon, and together the couple gave birth to 6 wonderful children. Shortly after their marriage, Melvin enlisted in the United States Air Force and spent the next 20 plus years working in Aircraft Maintenance. He served in both Korea and Vietnam and was proud to work aboard all aircraft including the SR71 Blackbird. Melvin worked in several capacities within the aircraft field which included basic maintenance, mechanics and leadership roles such as performing Crew Chief duties. Due to his military career, Melvin was fortunate to have traveled throughout the world. He was honorably discharged and retired at the rank of Master Sargent on March 1, 1976. At that time, Melvin returned home and settled in Flat Rock where he has resided since.
Melvin loved to spend time in his garden. In earlier years, he enjoyed fishing, hunting and playing his guitar. He loved Sunday dinners with family, and was a true NASCAR and racing fan.
Survivors include:
Former wife and friend: Yvonne Way
Sons: Clifford (Peggy) Way
Edward Way
Daughters: Yolanda Way
Yelena (Jason Cole) Way
Yelisa (Heath) Reisner
Brother: Rockford Way
Sister: Sharon Ferguson
Grandchildren: Taylor, Megan, Sean, Joshua, Aaron, Noah, Sarah, Autumn, Tony, Kayla, Jessica, and Dalton
Additional survivors include numerous great grandchildren, nieces, nephews and cousins.
Melvin was preceded in death by his parents, Burns and Maude:
Daughter: Yvette Way Rivera
Brother: David Way
Sister: Judy King
Melvin's family will receive friends on Friday, from 11:00AM to 1:00PM, at the Skradski Family Funeral Home in Escanaba. Military rites will follow visiting hours, at 1:00PM, at the Skradski Family Funeral Home in Escanaba, with the Gladstone American Legion August Mattson Post #71 presiding. Funeral services will follow with Walter Sheedlo officiating. The Skradski Family Funeral Homes of Delta County are assisting with arrangements.