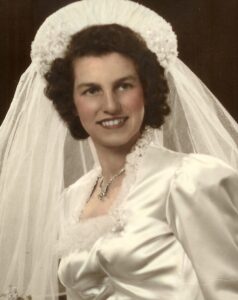 Margaret A. VanDamme, 93, of Rock, died October 11, 2023 at the Mill Creek Assisted Living Facility in the presence of her loving family and under the care of Lake Superior Life Care and Hospice.
She was born July 10, 1930. Daughter of Philomen and Rose Lippens, she grew up on their farm in St. Nicholas with her two older brothers Tony and Henry. She went to school in the nearby community of Rock.
She married Francis C. VanDamme on June 10, 1950 at St. Joseph Church in Perkins. Their marriage lasted 47 years until his death at age 77.
She was a homemaker and wife of a potato and dairy farmer who loved farming. All who knew her appreciated her work ethic, which she and Francis imparted on all of their children through determined "Belgium farmer" example. She much preferred being in the fields over the kitchen. Despite this, she lovingly taught her daughters cooking, breadmaking, baking, sewing, canning and gardening at a young age. She also was a remarkably fast blueberry picker, able to out pick them well into her later years.
She was a member of St. Joseph Church in Perkins. Her hobbies included gardening, card playing, dancing, and traveling. She loved having company, with friends and family always feeling welcome in her home. Margaret was able to get her GED in middle age, something she was very proud of accomplishing.
In her retired years, she insisted on living in a small home next to the original farmhouse, where she could continue feeding the newborn calves and grading potatoes. Being able to watch seasonal change and farm activity through her windows became a great source of comfort and satisfaction. Hopping on her little golf cart and going for a ride in the field with a grandchild or two was a genuine joy. She also took great pride in being able to mow all of the farm lawns until she turned 89.
Margaret and Francis spent many years wintering in Florida. Hosting her children and their families during Spring breaks provided great memories for all. Known as a smear card game fanatic, she was adept at learning new games, but was also quick to point out "this isn't smear!". Talking about "old times" always brought a smile to her face.
Survivors include: three sons; Joe and Tony (Mary) of St Nicholas, Jim (Lori) of New Auburn WI, a son-in-law, Ron Moraska of Marquette; two daughters Rita (Bill) Short of Marquette, Bev (John) Gaudette of Iron Mountain, 14 grandchildren, 22 great-grandchildren and numerous nieces and nephews.
In addition to her parents, she was preceded in death by her husband Francis, daughter, Donna Moraska, two brothers, Henry and Tony and dear friend and sister-in-law Theresa who must have had an open slot on her dance card and gave Margaret a call to join her.
Visitation will be on Monday, October 16 from 10:00 am to 11:30 am (Eastern time) at the Skradski Funeral Home in Gladstone. Parish prayers will begin at 11:30 am with the opportunity for individuals to share memories and stories. A Mass of Christian Burial will be celebrated at 1:00 pm at St. Joseph Catholic Church, Perkins with the Rev. Larry VanDamme officiating. Luncheon will be served following the service. Interment will be at the St. Nicholas Cemetery.
Memorials may be directed to St Joseph Church Perkins or the Jourbert Syndrome Foundation. Envelopes will be available at the funeral home.