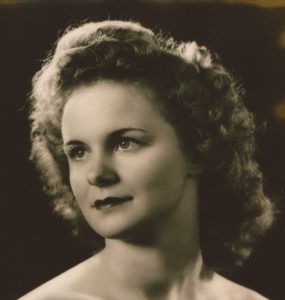 Madonna (King) LaBrie passed away peacefully Monday, December 7th of natural causes. She had been a resident of Pinecrest Medical Care Facility for 14 months.
Madonna Floraine King was born April 28, 1927, in Detroit, Michigan. She was the oldest child of Joseph and Cecelia King. The family moved to Flat Rock when she was a young girl, where her parents had a dairy farm. She had two brothers, Vernon and Ronald King. Her cousin Eugene Beck joined their family after his mother's death.
Madonna graduated from Escanaba High School in 1945. After high school she attended beauty school which led her to a life-long profession as a hair stylist. Madonna had several loyal clients throughout the years.
In November 1947, Madonna married John B. LaBrie, the love of her life. They lived in Escanaba and moved to Bay View in 1957, where they remained. Before his death, John and Madonna enjoyed square dancing, playing cards, going to camp and traveling.
Madonna also enjoyed knitting. She spent countless hours making her grandchildren beautiful afghans. Another favorite pastime was watching the wildlife outside her living room window. Later in her life, she could sit for hours watching the deer, turkeys and birds. She was an avid Packers and Tigers fan, and rarely missed watching a game.
Madonna and John had six children, Cheryl (Glen Walls), Judy (Richard Crump), Mary Martinson, John (Cheryl), Debra Hixon, and Laura (who died shortly after birth).
In addition to her children, she leaves several grandchildren and great grandchildren including Nathan Walls (Robin), Sara Crump, Jacqueline Earley (Tony), Richard Crump (Annie), Jamie Higdon, Patricia Porter (Andrew), Vernon Hixon (Elly), and Steven Hixon. Madonna is also survived by several nieces and nephews.
She was preceded in death by her parents, her brothers and her husband, John.
Madonna was a long-time member of St. Anthony's Church in Wells. Services for Madonna will be held at a future date due to the Corona Virus. Entombment will be at Holy Cross Cemetery.