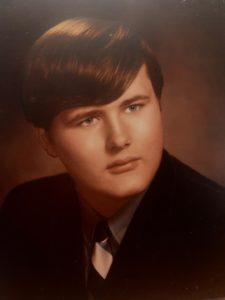 Lynn A. Collins, age 70, of Gladstone passed away on June 11, 2022 at the Lakeview Assisted Living-Memory Care in Gladstone.
Lynn was born January 15, 1952 in Escanaba, the son of Roland and Ingrid (Bajanen) Collins. He attended and graduated from the Escanaba High School in the Class of 1970. He was united in marriage to Kathleen Sue Sturdy in Escanaba on May 26, 1971. He was a lifelong resident of Delta County and employed at the Mead/New Page Paper Company for 39 years. He enjoyed spending time at hunting camp with friends and riding motorcycles. He was a talented athlete, competing in wrestling, basketball, track and football. He always loved the game of football, first as a player in high school and would continue using that passion and skill into college. He frequently spent his Friday nights watching local football games. His favorite thing was spending time with his grandchildren. He was a constant supporter, from watching their sporting events to reading or fishing and hunting with them. He also encouraged the kids to cook with the kindest of critiques. Lynn's house was always open and filled with food and laughter. A place where anyone could feel at home. He was genuinely one of the kindest and most selfless people you could meet. He was also always there to lend and ear and offer some wise advice. A true friend to all, he will be dearly missed.
Lynn is survived by his children, Andrew (Kathy) Collins of Plover, WI and Heather (Mike) Sylvester of Flat Rock; grandchildren, Mackenzie Skye Collins and Timothy and Ashley Sylvester; siblings David (Janice) Collins of Escanaba, Sandy (Ralph) Hord of Denton, TX, Patrick (Judy) Collins of Minneapolis, MN and Lance (Linda) Collins of Escanaba and numerous nieces and nephews.
He was preceded in death by his wife, Kathleen, his son, Christopher, his parents and siblings, Wayne, Roger, Darryl and Terry.
The family will receive friends on Saturday, July 2 from 11:00 AM to 2:00 PM at the Skradski Family Funeral Home in Escanaba. Memorial services will follow at 2:00 PM with Rev. Dr. Lon Hider officiating. Lynn will be laid to rest in the Gardens of Rest Cemetery.
In lieu of flowers, memorial contributions in Lynn's name may be directed to the Alzheimers Association.