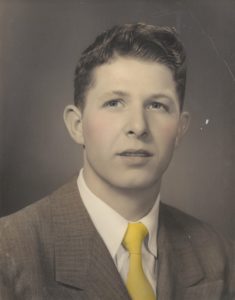 Loyst E. Trombley, age 87, of 2000 Lake Shore Drive, Gladstone, MI (formerly of Dana Lake- Wetmore, MI) passed away after a brief illness on Wednesday, June 3rd, 2020 at home surrounded by loved ones.
Loyst was born on July 9th, 1932 in Munising, MI, the son of Charles E. and Greta R. (Masters) Trombley. He was raised in Munising (Cox addition) and attended the Washington & Mather High School. Upon graduation, Loyst entered the US Army and was stationed in Augsburg, Germany for 28 months. While there, he was a member of the Division Honor Guard, sang with the Division Choir, was a Liaison Chief and Supply Sargent. Upon his discharge in 1956, he went to work for Kimberly Clark.
He attended Northern Michigan University and went into sales. He worked for Prudential Insurance Company as an agent & sales manager for nearly 25 years. Loyst & his wife, Nancy, purchased the Pine Haven Rest Home and ran it together for 18 years, selling it in 1992.
While he was with Prudential, they lived in Marquette, MI, Watertown, WI, and finally settled in Rapid River, MI in 1967 where they raised their 3 children, Tarri, Greg & Trudy.
While in Rapid River, Loyst was an active member of the community. He brought in Little League to Rapid River & coached that, along with Senior League and Legion Baseball. He served 5 years on the School Board (4 as President), was a member of the American Legion Post 301, former member of Gladstone Yacht Club, Gladstone Golf Club and the Irish Oaks Golf Club.
He was a charter member of the Rapid River Lions Club where he served as Past President and all other officer positions, as well as the Board of Directors for 14 years. During his time, he was instrumental in securing the Masonville Twp Park property. He was elected District Governor of Lions 10B and was a Council Chairman. He received the 100% District Governor's Award, the International Presidents Award with 2 Wings and was the first Lion in the Upper Peninsula to receive the Melvin Jones Award.
Loyst was also Vice President of the Lions of MI Service Foundation when it chartered and also served as President. While chairing the Grant Committee, he secured several grants for Bay Cliff Health Camp. He served on the International Convention Committee, which he chaired for 15 years. He attended 17 conventions worldwide. He was the recipient of the Ralph M. Sheehan Award and was inducted to the MI Lions Hall of Fame in 2011.
Loyst enjoyed golfing, playing cards and was an avid Detroit Lions, Tigers & Pistons fan, attending many games with his son, Greg & friends. Loyst hunted and owned property at Camp 26, where he spent lots of time with family & friends. He later built a cottage on Dana Lake that became his seasonal home. Family dinners at Dana Lake made him smile from ear to ear. He & Patty spent their winter months in Mississippi & Florida.
In 2017, he was thrilled to be a part of the UP Honor flight, an experience he was happy to share with his daughter, Trudy. At age 86, Loyst went to work at Sage Run Golf Course for 2 years and very much enjoyed it. He lived an extremely active life, still golfing and having family dinners just a month before his passing. He and Patty were a busy couple who spent a lot of time with friends & family.
Survivors include:
1 Son: Gregory (Julie) Trombley of Canton, MI; 2 daughters: Tarri Trombley of Orlando, FL and Trudy Boyer of Rapid River, MI; 5 grandchildren: Brooke (Brad Johnson) Lindbert, Lexie Boyer, Brett Trombley, Blake Trombley & Michael Boyer; 1 great-granddaughter: Madelyn Lindbert; sisters Cora (Bill) Karrak of Camaron, TX, numerous nieces and nephews and his longtime companion, Patty Demeuse of Gladstone.
Loyst was preceded in death by his parents, sisters Edith Bratz, Millie Dunn, Muriel Binns, Carol Bajarno, Kay Bardo, one brother Jerry Trombley, and by his former wife, Nancy Trombley of Rapid River.
Family will receive friends and guests on Tuesday, June 9, 2020 from 2:00 to 6:00 PM at the Skradski Funeral Home in Gladstone. Mass of Christian Burial honoring Loyst is scheduled to follow visiting hours at 6:30pm at the All Saints Catholic Church in Gladstone with Rev. Fr. Jamie Ziminski officiating. Luncheon will follow at his granddaughter Brooke's home in Rapid River. Loyst will be laid to rest in the Maple Grove Cemetery in Munising on Monday, June 15th where military rites will be presented. The Skradski Family Funeral Homes of Delta County are assisting the Trombley Family.