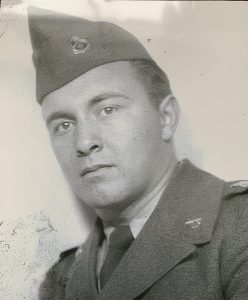 Llewellyn "Lew" Mosier, age 82, of Escanaba, passed away Friday, January 3, 2020, at DJ Jacobetti Home for Veterans in Marquette.
Lew was born March 23, 1937, in Escanaba, MI, the son of Carl and Genevieve (Laundra) Mosier. He graduated from Rapid River High School. Lew was united in marriage to Marland Pepin on August 20, 1955 at St. Thomas The Apostle Catholic Church in Escanaba. He then enlisted in the United States Army. He was a rank of SP3 from 1955 until 1958. He was stationed in Korea on the "DMZ Zone." Lew was also a sharp shooter, a High Speed Radio Operator, and a member of the KMAG, Korean Military Advisory Group.
Following Lew's Honorable Discharge, he spent 30 years working for the United Parcel Service. He drove 2.4 million miles without an accident for UPS. He was inducted into the "UPS Circle of Honor" honored by the Governor and the Senator.
Upon retirement, Lew and Marland enjoyed traveling around the United States in their motorhome for the next 17 years.
Lew was a member of St. Thomas the Apostle Catholic Church, a former member of AMVETS, and the National Rifle Association. He loved camping, snowmobiling, and enjoyed puzzles. He was particularly proud of going on the UP Honor Flight in 2016.
In addition to his loving wife of 64 years, Marland, He is survived by:
1 Son: Troy (Kim) Mosier of Escanaba
1 Son-in-law: Tom Deno of Escanaba
1 Brother: Dan Mosier of Escanaba
2 Sisters: Nancy (Ted) Ramsey of McKinney, TX
Sandi LaCosse of McKinney, TX
4 Grandchildren: Scott (Tara) Mosier, Ariane (PJ) Grandchamp, Jason (Sara) Deno, and David (Brittney) Deno.
9 Great Grandchildren
And several Nieces, Nephews, and Cousins.
Lew was preceded in death by:
Parents
Daughter: Carrie Deno
Brother: Marvin Mosier
And Sister-In-Law: Sue Mosier
Family will receive friends Wednesday, January 8, 2020 from 10:00 AM until Noon at the Skradski Family Funeral Home in Escanaba. Military Honors will be presented at Noon by the Delta County Veteran Council. Mass of Christian burial will follow at 1:00 PM at St. Thomas the Apostle Catholic Church with Rev. Fr. Rick Courier officiating. A luncheon will follow in the church hall. Lew will be laid to rest in the Gardens of Rest Cemetery in Wells, MI. In lieu of flowers memorial contributions may be directed to the UP Honor Flight. The Skradski Family Funeral Homes of Delta County are assisting the Mosier family.