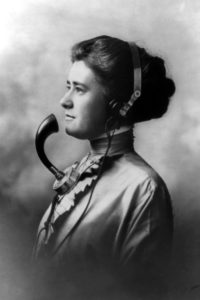 Laura Dorothea Louis, age 94 of Gladstone, peacefully left this world on Sunday November 10, 2019 after a very brief illness while her family were at her side.
She was born in Newport, Rhode Island. Newport was at one point the center of wealth in America. The Vanderbilt's and Kennedy's played or ignored each other in a delightful dance of old-moneyed reverie. Laura—neither Vanderbilt nor Kennedy—lived well away from their ocean cliff mansions.
After graduating from Newport High School, she became a telephone operator in the days when you dialed the operator first to connect you to the party to whom you wished to talk. She would say "operator" and then ask the calling party "number please." Laura would then manually plug a patch wire at Newport's AT&T's central telephone office from the cable that ran from your residence to the cable that ran to the place/person you wanted to talk to saying "one moment please". Of course, Laura used her innate wit and light-hearted comedic personality to embellish the personal experience for the calling and called party (an attribute highly valued by AT&T at the time).
Laura met and married her late husband Eugene "Gene" Henry Louis, a naval officer from Escanaba. He proposed to Laura while he was stationed in Key West, FL, and they were married in Newport. They enjoyed Naval assignments in Norfolk VA, San Diego CA, Newport RI, Boston MA, and the Great Lakes Training Center in Illinois. After moving around the U.S. from port to naval port, they finally settled in Gladstone in 1962 where they lived out their lives.
Through the years, Laura made a successful home in Gladstone nurturing her children. During those years, she joined Gladstone's Home Extension Club in which she and the other women took on many projects like providing hobby and craft lessons to its members.
Laura interviewed with Escanaba, MI Shopko before it even opened and was hired as the Head of the Domestics Department. She retired from Shopko in 1989.
Laura often told stories of her East Coast home. Enwrapped in nostalgia, she often painted her stories so vividly that you thought you were there along the Ocean or with Family or back in "history." She held a stolid reverence for a place she hadn't lived in for decades. Here was a woman, transformed by place, constantly aware of her dual citizenship … glad to be with her family along the Little Bay de Noc coast, yet reminiscing about her family and life along that coast.
She was preceded in death by her mother Laura Rodda Brownell, her sister Norma Schweitzer, her sister Phyllis Brownell, her brother Norman, and her step-brother, George Toelken. She is survived by her cousin, Betty Chambers of Newport, RI.
Laura is also survived by her five children: John (Mary Zanoni) Louis of Houghton, MI; Gary (Sally) Louis in Milan, MI; Wayne (Shelley) Louis from Colorado Springs, CO; Laurene (Keith) Clark of Gladstone, MI; and Darren Louis residing in London, England. Laura has seven grandchildren, Angela, Ryan, Christopher, Jessica, Michael, Mathew and Benjamin and six great grandchildren, Liam, Ethan, Aubrey, Graeme, Alexander and Kylie. She is also survived by her niece, Jan (Phil) Nurnberger of Kingsland GA, and her nephew Mark (Donna) Schweitzer also of Kingsland GA.
Visitation will be on Wednesday, November 13 from 4:00 PM to 5:30 PM. Closing prayers will be at 5:30 PM. Laura will be laid to rest in the Fernwood Cemetery in Gladstone.