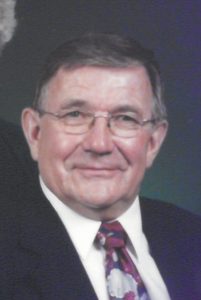 Kenneth A. Clement, age 85, of Rapid River (Stonington) passed away on Monday, June 27, 2022 at the St. Francis Hospital in Escanaba.
Ken was born December 6, 1936 in Manistique, Michigan. He graduated from the Michigamme High School. He worked as a heavy machine operator and mechanic in the family owned business, Clement Excavating, with his father, Alphonse and mother, Martha in Michigamme, Michigan. He operated bulldozers, backhoes, front end loaders, dump trucks and anything else he was required to operate. He did jobs as small as digging basements for people to working at the mines with his mom and dad and the crew they employed.
He also volunteered time as a bus driver for the Blue Notes Drum and Bugle Corp from Ishpeming, Michigan. His experience with being a mechanic became valuable when it came to fixing things on the road. He became known as "dad" with some of the kids.
From there he went to work in Champion, Michigan for the Mead Corporation. He quickly advanced to transportation manager in Escanaba, Michigan where he retired from. He made many accomplishments within the company. Most noticeable was getting a state law changed. This allowed B-trains to be used in the state. This earned him the title of senator at work. He was also part of bringing the capitol Christmas tree to Washington D.C.
As a young father he loved to snowmobile. He would race his Scorpion Mark II in races and in the neighborhood. It had gotten so competitive with one friend that to beat Ken he had to buy a new snowmobile. He would go with family and friends on trail rides where they would have open fire cookouts.
He loved to hunt deer with his dad and family. Even if he wasn't out hunting he would have loved it because he was with family.
He purchased his own camp in Rapid River where he loved to entertain friends during the holidays. As he got older he became excellent with wood working and created all the woodwork at camp and at home with wood cut off his land. He made furniture for friends and family and loved doing it. When he couldn't make something for someone due to distance he would go out of his way to travel to them to help them. He would teach people what he knew and gave of himself because that was the reward for doing so.
He never hesitated when someone asked for his help. Even when someone didn't need help he realized that they did need help and was there for them. He would use the skills that he gained over his life to help people without asking for anything in return.
He treasured family and kept the family reunion's together and organized them. He would go out of his way for his family and loved playing the card game smear with his son Curtis and grandson Tyler.
Ken is survived by his wife, Emily Lampi-Clement of Stonington, his children, Curtis (Deborah) and Steven (Theresa) Clement, grandchildren, Tyler, Curtis Jr., Alyssa, Jennifer and Michael Clement and his sister, Kathleen Swiedals. Also survived by several step-children and step-grandchildren.
He was preceded in death by his parents.
Private services for Kenneth will be held at the convenience of the family.