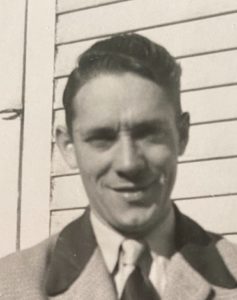 Karl Norman Kell, age 94, of Escanaba passed away on November 7, 2020 at the UP Health System in Marquette due to complications from Covid 19.
Karl was born June 29, 1926 in Escanaba, the son of Ivan and Beatrice (Ehlers) Kell. He grew up on the Kell family farm in Wilson and attended school in Powers. He was united in marriage to Jean Charland on April 17, 1948 at the St. Stephen's Episcopal Church and together the couple made their home and began their family in Escanaba. He was a member of Christ the King Lutheran Church in Escanaba and a lifetime member of the Iron Worker's Union.
Karl entered the apprentice program for carpenters and worked for Al Brandt, Erling Arntzen and Pascoe Construction. He also worked as an iron worker with Roy Ness Contracting for the last 25 years of his career, serving as a foreman and superintendent. In his early years, Karl worked on construction of the Delta County Chamber of Commerce, Delta County Courthouse and Jail, State Office Building, Manistique School and numerous other local buildings. While employed with Roy Ness, he changed the face of the Upper Peninsula, working on building the Bessemer Plywood Factory, the Houghton County Airport Building, the Algoma Steel buildings in Sault Ste. Marie, buildings at Marinette Marine, Lakeview Arena in Marquette and numerous other locations.
He enjoyed spending time at camp, driving his tractor and farming, hunting, fishing, being in the outdoors, watching the news and keeping up with current events.
Karl is survived by his children, Maureen (Joseph) Eichman, Randall (Sandra) Kell, Richard (Cindy) Kell and Cynthia (Todd) Steinmetz, all of Escanaba; six grandchildren, Lindsay Eichman of Chicago, Amy (Steve) Kinsler of Denver, Brian Kell of Escanaba, Dr. Dana (Matt) Stewart of Gladstone, Tim Steinmetz of Gladstone and Kaitlyn (Andrew) Bedgood of Chicago; two great grandsons, Kelly and Brady Kinsler of Denver.
He was preceded in death by his wife, Jean, his parents and brother, James Kell.
Private services will be held at the convenience of the family. Karl will be laid to rest in the Gardens of Rest Cemetery in Wells.