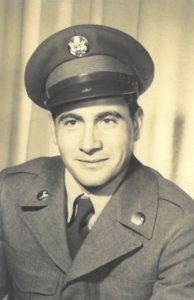 Joseph Young, age 88, of Gladstone, passed away peacefully at the Iron Mountain Veterans Hospital on January 3, 2021.
Joe was born May 3, 1932 in Escanaba, the son of Martin and Madeline (Steffic) Young, Croatian immigrants who ran a milk farm in West Gladstone most of their life.
Joe attended Carroll Grade School and graduated from Escanaba High School. After graduating, he served in the U.S. Army. He was later employed at Mead Paper Company for several years. He enjoyed hunting, fishing, gardening, wine making, and mechanical projects. He married Rita (Olsen) in 1955. She preceded him in death in October of 2016.
Joe is survived by his daughters Theresa Young of Gladstone and Julie (Dean) Pfiester of Cornell, grandchildren Justin (Nicole) Covell and their children Hannah and Maddison of East Lansing, Ashley (Michael) Bowen and their daughter Margaret of Ann Arbor, and James Young and his son Blaise of Escanaba. He is also survived by one sister, Rose Byrnes of Two Rivers, WI, and several nieces and nephews.
In addition he was preceded in death by sisters Ilene, Mary, Elsie, Pauline, and Ann, as well as brothers Chuck, Martin Jr. and Steve, and his granddaughter Emily.
Private services honoring Joe will be held at the convenience of the family.