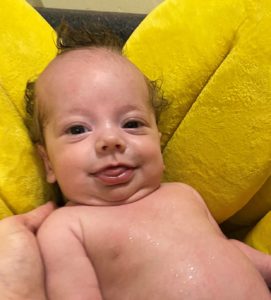 Hudson Cowboy King, the beloved infant son of Kent King and Brooke Granquist of Gladstone, went to be with our Lord and Savior on Sunday, September 13, 2020. Hudson was full of smiles and snuggles for his 74 days of life, bringing joy and happiness to his family and every doctor, nurse, and person who met him. He was known for his great hair, bright eyes, and humorous facial expressions. Hudson loved his tiger pacifier, fuzzy blanket, and taking naps on his mom or dad's chest.
In addition to his parents, Hudson is survived by his sisters, Kenzie and Marci; maternal grandparents, Dave and Cherie Granquist; paternal grandmother, Ann King; paternal grandfather, Dale King; aunt and uncle on Brooke's side, Chuck and Amber Liikala (along with sons John and Ryan); aunt and uncle on Kent's side, Jason and Shannon Cummings; maternal great-grandparents, John and Carol Hudson, Ed and Sandra Granquist, and Peggy Johnson; maternal great-great-grandmother, May Carlson; and many other cousins, family, and friends who will love and miss him dearly.
Hudson was preceded in death by his maternal great-grandparent, Don Johnson; paternal great-grandparents Richard and Julie King, Dwayne and Mary Hoffman, and Roger and Barbara Miron; maternal great-aunt, Sheila Sanville; and paternal great-uncle Joey Miron.
The family would like to thank the doctors, nurses, and other healthcare workers at C.S. Mott Children's Hospital of Ann Arbor for the exceptional, incredible care they provided to Hudson during his NICU stay, with a very special thanks to his primary nurses, Darlene and Brooke.
The family appreciates all of the prayers and condolences that have been extended during this tragic and difficult time.
A service for Hudson will be held at Bark River Bible Church on Tuesday, September 22, 2020. Visitation will be from 3:00-5:00 p.m. EST with the service to follow at 5:00 PM. The Skradski Family Funeral Homes of Delta County are assisting the King/Granquist family.