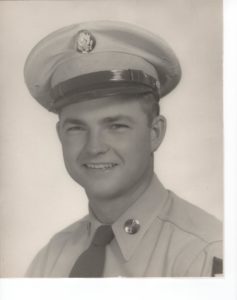 Hjalmar Alfred Olson, age 90, passed away early afternoon Thursday, April 18, 2019, at his home in Escanaba.
Hjalmar was born November 11, 1928, in Escanaba, the son of Hjalmar E. and Bernettie (Carlson) Olson. He was raised in Cornell and was a 1946 graduate of Escanaba High School.
Following high school, Hjalmar went to work on the boats as an able seaman. He worked for Pittsburgh Steamship Company before enlisting in the United States Army where he served his active duty enlistment from January of 1949 through January of 1950. Hjalmar then transferred to the Army Reserve serving until his honorable discharge in February of 1955.
On June 16, 1951, Hjalmar was united in marriage to the former Eleanore Porath at Central United Methodist Church in Escanaba. The couple resided in Escanaba and Wells before settling in Gladstone where they made their home and raised their four daughters. Eleanore preceded Hjalmar in death in 1980. Hjalmar eventually married the former Geneva Smith Iverson and together they made their home and spent many wonderful years together in Gladstone and Escanaba. Geneva preceded Hjalmar in death in 2012. Hjalmar was employed as a Letter Carrier/Mailman until his retirement.
Hjalmar was a life-long member of the Central United Methodist Church in Escanaba. Additionally, he was a long- standing member of the Escanaba Elks Lodge #354, a member of the former Moose Lodge and member of the Upper Peninsula, State and National Association of Letter Carriers. He enjoyed hunting, fishing, golfing, writing songs and poetry, taking walks, traveling, and in later years playing blackjack at the casino.
Hjalmar is survived by:
Daughters: Lynn (Harland) Couillard, Diane (Rick) Kundracik,
Dorrie (John) Petr and Julie (Tom) Backlund
Brothers: James Olson, Melvin (Karen) Olson,
Gary (Anne) Olson and Dale (Connie) Olson
Sisters: Linnea Buckland, Ethel (Mick) Knierim and
Debbie (Craig) Krafcheck
Grandchildren:
Holly (Dave) Howes, Heather (Phil) DeMay,
Ryan (Mike Martin) Malcolm, Nicolas (Leslie) Malcolm,
Patrick (Jessica) Malcolm, Tiffany (Ward) Zeno,
Matt (Lindsey) Petr, Michael Backlund, Michelle Backlund and
Maria Backlund
Great Grandchildren:
Tanner and Ella Howes, Hayden and Logan DeMay, Reese, Riley and Alexia Malcolm
Special Friend: Delores
Hjalmar's wives Eleanore and Geneva, parents Hjalmar E. and Bernettie, brother Clarence Olson, sister Linda Jackson, brother in law Dan Sundman and sister in law Elaine Olson preceded him in death.
Family will receive friends on Monday, from 4:00PM to 5:00PM, at the Central United Methodist Church in Escanaba. Funeral services will follow visitation, at 5:00PM on Monday, at Central United Methodist Church, with Pastor Christine Bergquist officiating. Luncheon will follow in the church fellowship hall. Hjalmar will be laid to rest in the Gardens of Rest Cemetery in Wells. Memorial Contributions in Hjalmar's name may be directed to the Central United Methodist Church. The Skradski Family Funeral Homes of Delta County are assisting with arrangements.