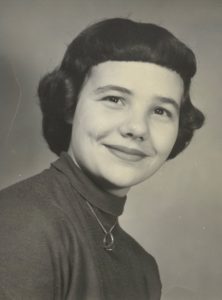 Elaine A Oman
Gladstone – Elaine Alice Oman, 82, 217 Dakota Ave, Gladstone died Wednesday November 11, 2020 at home surrounded by her loving family, after an undiagnosed lengthy illness.
She was born November 19, 1937 in Beaver (Perkins) Michigan, the daughter of Joseph Lachance and the former Victorine Labresh. She was the 13th of 14 children. She was raised in Little Lake and Escanaba. She attended Escanaba High School with the class of 1955.
On October 23, 1954 she married Stephen Bruce Oman at St Anne's Church in Escanaba. He preceded her in death in 2010.
See was a stay at home mom, a great cook and baker and kept a very welcoming home. After her children grew up she took on some part time employment but her main job was to make people happy. She was easy to converse with and anyone who talked with her was bound to feel great afterward. She was special because her unconditional love extended beyond her immediate family. Family was very important to her so she has given and received much love.
Before her eyes failed her she enjoyed crafting, reading and was a wizard with the bingo dauber. After her eyes failed her she enjoyed listening to books on tape, talking on the phone and spoiling her grandchildren. She was a person of faith and ready to meet Jesus.
Survivors include two daughters, Lee Anne Oman, Escanaba and Sandra Oman (Ed Wilson), Gladstone; two sons, Bruce Oman (Tina), Menominee MI, Jeff Oman, Gladstone. She is further survived by seven grandchildren; Laura St Louis (Paul), Emily Nyquist (Loren), Josh Oman, Stephen Oman, Jennifer (Brian) Miller, Morgan Wilson and Marshall Wilson; two great grandchildren Rosemary Elaine St. Louis and Jimmy St Louis; two sisters, Delphine Tucker and Delores Rife (Jim Wasurick); one brother Zeph Lachance. Also surviving are brothers and sisters in-law: Elaine Oman, Lois (Dwayne) Bero, Don Dahlke, Maxine Erickson and Eleanor Westman.
As you would expect she is also survived by a great number of nieces and nephews.
She was preceded in death by her husband, her parents, her grandson Jayme Oman, brothers; David (Lempi) Lachance, Delore (Bertha) Lachance, Albert Lachance, Elmer Lachance, Tony (Eleanor) Lachance, Wilfred "Fritz" Lachance; sisters Emma (Charlie) Delmont, Helen Lachance, Marie (Russell) Westman, Bertha Lachance, Also preceding her in death are brothers and sisters in-law ; Clayton Tucker, Neal Rife , Marlene Lachance, Wilbur "Billy" (Jeanette) Oman, Shirley Dahlke and Judy (George) Rogers.
The family would like to thank UP Health Systems Hospice for their rapid response and compassionate care. The family would also like to thank the emergency room staff at St. Francis Hospital.
Friends may call at the Skradski Funeral Home in Gladstone on Thursday, November 19, 2020 with the holy rosary being recited at 12:45 PM with visitation to follow from 1:00 PM until 3:00 PM. Mass of Christian burial is scheduled for 3:30 PM at All Saints Church in Gladstone with Rev. Fr. Jamie Ziminski officiating. Burial will be in the Rapid River Cemetery. In lieu of flowers memorial contributions may be directed to the St. Vincent de Paul or Salvation Army.
Because of current circumstances the family realizes some may not be able to attend and want to assure them that we understand and hope that sometime in the future we can get together to celebrate mom's life in an atmosphere of fellowship that she so much enjoyed.