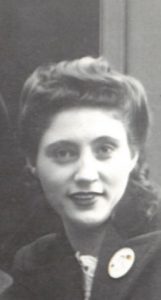 Ann "Tiny" Ida Duchaine, age 96, passed away peacefully on April 6, 2020, at her home, following a lengthy illness.
She was born July 16, 1923 in the Buckeye Addition in Gladstone. She was one of ten children to Martin and Madeline (Steffic) Young, Croatian immigrants, who ran a milk farm in West Gladstone most of their life.
Ann attended Carol's Corner school in Gladstone, then helped out on the family farm milking cows and growing and preserving vegetables until about age 18. She moved to Chicago to live with her sister, Mary for a few years, while her fiancé, Ray Duchaine, also of Gladstone, served in the U.S. Army during WWII. While in Chicago she worked on the assembly line for Hallicrafters, making radios for the war effort. In 1944, she returned to the area and married Ray, where they lived for a time in the Groos area, then built one of the first homes in the Pine Haven Subdivision, where she was a homemaker the rest of her life.
Ann was a volunteer for the American Legion Auxiliary for years, as a flag holder at many funerals and celebrations and helped at Legion events. In her healthy years, she looked forward to monthly lunches with her girlfriends and visits from family and neighbors. But mostly, she loved spending time outdoors at the family camp. She was a hard worker and pitched in raking, weed eating, burning leaves, growing gardens and cutting firewood well into her 80's. She loved recounting stories of hard farm life. She drove her car and did all her own house work into her early 90's. She enjoyed taking rides to reminisce and this past summer was her last ride on a side-by-side at camp, and a Model T ride from longtime friend and neighbor, Mike Pryal.
Ann is survived by her one son, Michael (Connie) of Escanaba, grandson, Jeffrey Duchaine of Escanaba, step-grandsons, Matthew Laraby of Escanaba and Joshua Laraby of Fairfield, Iowa, brother, Joe Young of Gladstone, sister, Rose Byrnes of Two Rivers, Wisconsin and many nieces and nephews.
In addition to her husband, who died in 1988, Ann was preceded in death by her sisters, Ilene, Mary, Elsie and Pauline and brothers, Chuck, Martin Jr. and Steve Young.
She gave her life to the Lord in the last week of her life.
A celebration of her life will be held at a later date, where there will be many stories to share. She will be laid to rest in the Gardens of Rest Cemetery in Wells.
The Duchaine family is being assisted by the Skradski Funeral Home in Gladstone.