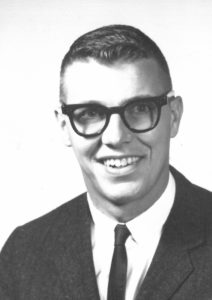 Robert (Bob) L. McGinty, age 83, of Gladstone passed away Sunday, March 7, 2021, at Lakeview Assisted Living Memory Care Center in Gladstone, surrounded by family.
Robert was born on January 25, 1938 in Flint, MI, the son of Edward and Lilah (Ferguson) McGinty. He graduated from Flint High School in 1955. He graduated from Michigan State University with a Bachelor of Science Degree, Western Michigan University with a Masters of Science Degree, Michigan State with a Masters of Science Degree and Michigan State with a Ph D in Math.
Robert taught math at Douglas MacArthur High School in Saginaw and was a Math Professor at North Michigan University for 38 years. Bob served as the National President of SSMA (School Science and Mathematics Association),President of the National Council for Teachers of Math and President of the Michigan Council for Teachers of Math. He was united in marriage to Margaret Bays on Febraury 14, 1981. He was a licensed contractor who built many houses, and loved to spend time with his family, attending their sporting and musical events, going camping, and traveling. In 1986, he and his family went to Malaysia where he taught university. He and Margaret lived in Hawaii after retirement, where Bob volunteered at the National Tropical Botanical Garden and the Kauai Humane Society.
Robert is survived by his wife, Margaret McGinty of Gladstone; children, Michael (Robert Miley) McGinty of San Francisco, CA, Amy (Kirk) Cooper of Escanaba, Kira McGinty of Albany, NY, Brendan (Susan) McGinty of Arlington, VA; grandchildren, Alanna and Joshua Cooper, Conor and Finn McGinty; his brother, Ronald (Connie) McGinty of Sierra Vista, AZ; nephews, Chad and Todd McGinty and numerous other nieces and nephews.
Bob was preceded in death by parents, Lilah and Eddie McGinty.
Memorial services for Robert will be held a later date and will be announced by the Skradski Funeral Home in Gladstone.
For those who would like to celebrate Bob's life with a donation, the family requests donations be directed to the Kauai (HI) Humane Society or the National Tropical Botanical Garden.