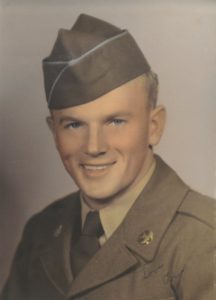 Orville Severin Pedersen, age 90, of Stonington passed away on Saturday, March 21, 2020 at Lakeview Assisted Living Memory Care in Gladstone.
Orville was born July 10, 1929 in Escanaba MI, the son of Peder and Gida Pedersen. He served his county proudly in the United States Army and is a Korean War Veteran. Following his military service, Orville worked as a mink farmer with his father in-law, Mayer Jacobsen, for several years. Orville then started raising beef cattle while working at the K.I. Sawyer Air Force Base for 26 years until he retired in 1991. Orville was a member of the Trinity Luthern Church in Stonington where he was involved with the church council as a member and President. He co-founded the Stonington Booster Club with his friend, Raymond Sundstrom and served as President for many years. He was a 60 year member of the Rapid River American Legion Post 301 and participated in numerous military honors, memorial services and parades. Orville was also a longtime sexton and caretaker of the Lakewood Cemetery in Stonington. He served on the Rapid River School Board in the 1970's. He pitched for several years in the Rapid River Men's Fast Pitch Softball League and was known to break a few fingers while doing so! Along with being a loyal Packer and Tiger fan he also enjoyed being a member of the Gladstone golf league, Escanaba bowling league and played horseshoes weekly on the Stonington league. He loved to fish and go for rides on his four wheeler and snowmobiles. Orville's last snowmobile ride was in 2018 with the Rapid River Relic Riders and he was recognized as Honorary Oldest Relic! Orville's dancing shoes were always readily available as he loved to dance, the Tennessee Waltz being his favorite. He loved all types of music and would never miss the chance to be on a dance floor.
Orville is survived by his children, David (Annette) Pedersen of Skandia, Todd (Jennifer) Pedersen of Cookville, TN, Eric Pedersen of Stonington and Jean (John) Sundstrom of Gladstone; grandchildren, J.T. (Leslie Anne) Pedersen, Niki Klauza, Ashley (Ty) Dentisen, Joe Klauza, Paige (Cameron) Collier and Mitchell Sundstrom; great grandchildren, Roger, Tucker and Hunter; brother, Merrill (J.J.) Pedersen of Emporia, Kansas and numerous nieces and nephews.
He was preceded in death by his spouses, Jackie Burnt, Mary Robinson and Marie Jacobsen, Bryers, his parents and siblings, Emily Wells, Helen Cummings, Margaret Graese and Ken Pedersen.
Funeral services for Orville are pending at this time and will be announced at a later date.
The Pedersen family is being assisted by the Skradski Funeral Home in Gladstone.