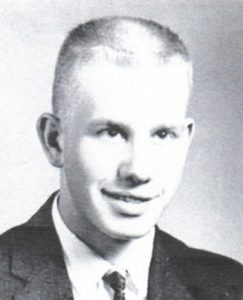 Michael D. Logue, age 77, of Rapid River and formerly of Port Townsend, Washington, passed away on Saturday, April 3, 2021 at OSF St. Francis Hospital in Escanaba, MI.
Michael was born July 18, 1943, in Port Townsend, Washington, the son of Floyd and Helga "Betty" (Johnson) Logue. Mike graduated high school in Port Townsend in the class of '61. He then joined the United States Air Force and served for 21 years. He also was a Vietnam War Veteran, and served as a refrigeration specialist. He retired from the Air Force in 1981 when he acquired his own business, Mike's Refrigeration, until the 1990's.
Although he was from Washington, he adored his Michigan life also. Mike was a 32nd Degree Mason, an avid sportsman, enjoyed camping, and flying his plane. He also enjoyed snowmobiling, cross country skiing, and motorcycling. Mike was reunited with his highschool sweetheart, Mary "Molly" Logue, in 2017 and together they shared many wonderful memories.
Michael is survived by his loving wife Molly, brother Gary (Kathy) and their children Byron (Ami) Logue, Brett (Michelle) Logue, Bart (Janice) Logue, and Bonnie (Travis) Logue, step-daughters Meg, Bridget (Dan), and Katie (Eric), grandchildren Declan, Scarlet, Alec, Ben and Tom, and numerous nieces and nephews. Mike is also survived by long standing friend Marilyn Logue and adored dogs, Scout and Ruby.
Family will receive friends on Tuesday, April 13, 2021, from 11:00 AM to 1:00 PM at the Skradski Funeral Home in Gladstone. Military Rites will be held following visiting at 1:00 PM officiated by the Gladstone American Legion.