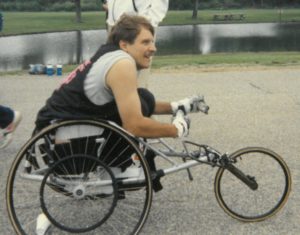 John Robert Jackson, son of James R, and Elaine Jackson, of Gladstone passed away suddenly but peacefully in his sleep on April 29th 2021 at the age of 74.
A graduate of Rock High School, his dreams of a four-minute mile were cut short in the summer of 1963. A diving accident injured his spine leaving him functionally quadriplegic. The doctors at the time told him he would be confined to a motorized wheelchair for the rest of his days. A surprise to no one who knew him, John decided he knew better. He refused the motorized chair and went out and tackled the world.
Starting out on a small farm in Rock Michigan, he connected to the rest of the world via HAM radio. Mentored by Bob Weingartner, call sign W8AXI, John learned to repair and restore vintage "boat anchor radios". This not only set him on a path to his amateur radio license but sparked an interest in electronics and later computers,.WA8QCA , "Big John", was a regular voice across the airways for many years.
He later graduated with high honors from Washtenaw Community College while working at the Comshare Corporation. John saw firsthand the development of computers from hard drives as big as bicycle tires, to the first displays on monochrome monitors, and the wonder of the first mouse. He also witnessed his computer and his phone line being tied up for hours while his young nephew tried in vain to beat Zork. During much of that time at Comshare, he also worked in the math lab at his alma mater, WCC, with his longtime friend John McGill.
Together they helped many impaired and ESL students succeed.. He retired after 30 years service with Comshare when the business was sold.
His competitive nature drove him to compete in everything from wheelchair rugby to road rallies. This included two Detroit marathons, a Fox City marathon, numerous half marathons and many 10K and 5K fun runs. He even qualified for the Paralympics in shooting. In 1993 he organized the Dog Day Sizzler run in Ann Arbor, Michigan, an annual event for many years. John was twice the president of the Michigan Wheelchair Athletic Association (MWAA).
The city of Ann Arbor twice recognized John for his outstanding work and advocacy for the handicapped. The Detroit Press followed suit. When he was awarded the J C Penny award, he donated the prize money to the MWAA.
John is survived by his mother Elaine, and sister Janet. He is also survived by his nephews Jeffrey Jackson, Jason Jackson, James R. Jackson II, his nieces Jennifer Neal, Elena Gorrow, and Jena Jackson, their significant others, Kate, Yvonne, Dolly, Rick, Phil and Tristan and seven grand nieces and nephews. He is also survived by his Aunt Alice Dempsey and her family. He is remembered by his "other sister" Nancy Alcumbach of Ypsilanti and good friend Paul Bourget of Dexter, who was with him on his many adventures and saved his hide more than once.
His entire family would like to thank Brittany Guare, our dedicated care giver and friend. Thank you to nurse extraordinaire Anne Truitt. Thank you to the entire UP Home Health and Hospice Staff. Thank you to Dr. Vernette Carslon and her team and to Dr. John R, Wallace and his team., Debbie and Bonnie. You went above and beyond keeping John going. You all have been amazing. A special thank you to the Gladstone Police Department and the Rampart paramedics for the numerous emergency visits to our home.
An author, an artist, a homebrew enthusiast, and a tyrant of the Scrabble board, Uncle John will be sorely missed. To honor his memory, we ask that you be the best you can be and never give up. You don't have to be first to win the race, you just have to be the best you can be.
.– .- —.. –.- -.-. .- / -.-. .-.. WA8QCA Signing Off and Closing Station.
Private services will be held at the convenience of the family. In lieu of a trip to Mars on one of Elon Musk's rockets, John will be laid to rest in the Rock Cemetery.