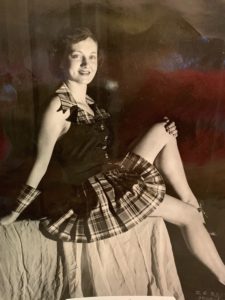 Eva Marie Paquin, age 83, of Gladstone, passed away peacefully surrounded by her loving family Sunday morning, August 4, 2019 at her home.
Eva was born in Farmington, MI, September 4, 1935, the daughter of William and Margaret (Donegon) Longfellow. Both were immigrants from England and Ireland. She was named after her Grandmother, Eva Ridings, who lived to be 102. Most of her early childhood was spent in tap shoes. From her grade school days and for 15 years she religiously danced every day after school for hours. Her love and dedication to dance led her to her future Husband, Frank Paquin, in 1954 while he was in the Army and she performed for the U.S.O.
Eva worked for J.L. Hudson in Detroit.
In 1956 she was united in marriage to the love of her life, Frank J. Paquin. They spent 59 loving years together. They then moved to Ypsilanti, MI, then to Allen Park, Cleveland, OH, and eventually made their home in Gladstone in 1963 where Frank and his two Brothers, Art and Jim, ran their business, Paquin and Sons Sand and Gravel.
Eva worked for Marv Pouilot at the Terrace Bay Inn for 11 years, Bishop Noa Home for the aging for 6 years, and then retired.
Her volunteer work consisted of RSVP programs, one being Reading Buddies at Cameron Elementary School. She also assisted at the UP State Fair's Pocket Park.
Eva and Frank volunteered to cook for and host 50 volunteer workers for more than a decade at the annual Kids Fishing Day held at Camp Seven Lake Campground.
Eva and Frank were one of the original members of the Delta Merry Mixers Square Dancers. Other hobbies of "Little Eva's" consisted of camping, gardening and canning her crop, cooking and baking, which she mastered. She found a new love for the cardinal. She would count her blessings when they would pay her a visit on her porch railing.
Mom's kisses, baked goods, and favorite recipes shared over the phone almost daily will be missed.
Our family would like to extend a special thank you to OSF Hospice Group and Gentle Hands LLC for assisting with our Mom's care. Without them we would never have been able to grant moms wish that she be at home for her final journey.
Eva is survived by:
3 Sons: Ronald (Gayle) Paquin of Gladstone, MI
Kevin Paquin of Gladstone, MI
Allen (Angie) Paquin of Gladstone, MI
2 Daughters: Brenda (Robert) Madden of Cornell, MI
Theresa (Patrick) Madden of Gladstone, MI
Brother: Frankie (Charlotte) Longfellow of Champagne, IL
Brother-In-Law: Art Paquin
Sister-In-Law: Theresa Lippens
13 Grandchildren: Brian (Stephanie) Paquin, Steven Paquin, Melissa (Andrew) Peltier, Heather (Tim) Bosanic, Ashley (Kyle) Dobson, Stephanie Madden, Thomas ( fiancé Denna Depas) Madden, Marcus Madden, Jason Paquin, Kristina Paquin, Mitchell Paquin, Jacob Paquin, and Brittney Paquin.
13 Great Grandchildren
And numerous Nieces, Nephews, and Cousins.
In addition to her Parents, and Husband, Frank Paquin, Eva is preceded in death by:
Sister and Brother-In-Law: Helen (Larry) Taylor
Half Brother: William James Longfellow
And Niece: Vickie Algren
Family will receive friends Wednesday, August 7, 2019 from 4:00 until 6:00 PM at the Skradski Funeral Home in Gladstone. Vigil Prayers are scheduled for 6:00 PM at the Skradski Funeral Home in Gladstone. Mass of Christian Burial is scheduled for Thursday, August 8, 2019 at 11:00 AM at Holy Family Catholic Church in Flat Rock with Rev. Fr. Francis Dobrzenski officiating. A luncheon will follow in Father Matt's hall in the church basement. Eva will be laid to rest next to her Husband in Gardens of Rest Cemetery in Wells, MI. In lieu of flowers memorial contributions may be directed to Holy Family Catholic Church. The Skradski Family Funeral Homes of Delta County are assisting the Paquin family.