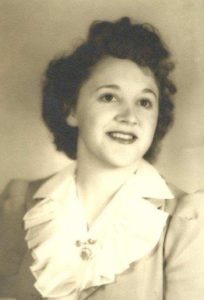 Doris (Toodie) Carlson, age 93, of Rock passed away on Saturday, June 15, 2019 at the UP Health System in Marquette.
Toodie was born August 19, 1925 at her Grandma LaBumbard's house in Rapid River. She is the daughter of Joseph and Stella (Lafave) LaBumbard. She began working at age 16 as a waitress for Frank's Restaurant in Gladstone and later worked for her parents at Stella's Cafe. She was united in marriage to Clifford J. Carlson on June 22, 1946 at All Saints Catholic Church in Gladstone. She was a member of the St. Joseph Catholic Church in Perkins where she taught CCD and was a member of the Ladies Guild. She also prepared dinner for the church picnic for 17 years. Toodie catered for over 54 years in Delta and Marquette County. She was known for her turkey and dressing, real mashed potatoes and Swedish meatballs. She was the food service manager for the Rock and Mid Peninsula Schools for 22 years, a charter member of the Rock American Legion Auxiliary Post 559 and Past President, and, served as chairperson of the Girl State program for 62 years. She was a Den Mother with the Rock Cub Scouts for 16 years, receiving the Den Mother Award. For years, Toodie was a caregiver for many of the elderly neighbors in the community. She also enjoyed gardening and sewing.
Toodie is survived by her sons, Jeff (Cindy) Carlson of Kingsford, Kim (Carolyn Peterson) Carlson of Rock and Wade (Kevin McMann) Carlson of Kalamazoo; her daughter, Vicki (Robert) Taylor of Chicago; daughter-in-law, Beth Carlson of Escanaba; ten grandchildren, Jeffrey, Carrie, Kimberly, Tim, Mike, Matt, Ryan, Andy, Kris and Lindsey; sixteen great grandchildren; and two great-great grandchildren; sister-in-law Lois Dodge of Auburn, Washington; and nieces and nephews.
She was preceded in death by her parents, her husband, Cliff, two infant sons, her son, Randy, brother, Ernest (Rita) LaBumbard and sister, Virginia Jean (Lester) Carlson.
The family will receive friends on Friday, June 21 from 2:00 PM to 5:00 PM at the Skradski Funeral Home in Gladstone. Mass of Christian Burial will be at 6:00 PM at the St. Joseph Catholic Church in Perkins with Fr. Joseph Augustine and Fr. Emmett Norden officiating. A luncheon will follow in the parish hall. Toodie will be laid to rest in the Rock Cemetery.