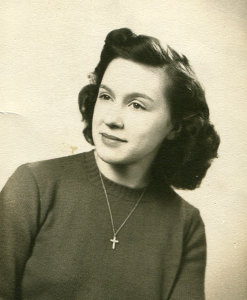 Willa A. DeMay, age 89, lifelong resident of Gladstone, passed away peacefully Friday afternoon, July 13, 2018, at Cedar Hill Assisted Living Facility, in Bark River, surrounded by her family.
Willa was born October 26, 1928, in Escanaba, the daughter of Herb and Nettie (Anderson) Lundmark. She was raised in Gladstone and was a 1946 graduate of Gladstone High School.
Following high school, Willa worked at Stella's Café and for Dr. Byron Skellenger. She would also cook at the Bungalow for their Friday night fish fry.
On January 28, 1950, Willa was united in marriage to Peter DeMay and together the couple made their home, raised their eleven children and spent many wonderful years together in Gladstone. Willa and Pete passed on a strong faith in God to each of their children and they both treasured time well spent with family. Pete preceded Willa in death on December 1, 2012 following 62 beautiful years of marriage.
Willa was a devout member of All Saints Church in Gladstone where she also taught CCD for many years. She looked forward to her neighborhood coffee club get together every month and will be deeply missed by all.
Survivors include:
Sons: Peter (Bonnie) DeMay, Dan (Joan) DeMay,
Richard "Buckeye" (Rebecca) DeMay, Bill (Karen) DeMay
Dave DeMay and Bob (Erin) DeMay
Daughters: Cathy (Harold) Flagstadt, Joy (Gregg) LaFave,
Nancy (Mike) Boyer, Mary (Paul) DeBenedittis and
Teresa (Don) Kuehl
Brother: Charles (Carol) Lundmark
Brother in law: Joe (Phyllis) DeMay
Sisters in law: Teresa (Floyd) Swift, Louise Kenyon, Felicia Berman, Jeanne DeMay and Carmen DeMay
Willa is further survived by her 28 grandchildren, 41 great grandchildren, 1 great great grandchild and many nieces, nephews and cousins.
In addition to her parents, Herb and Nettie and her husband Peter, Willa was preceded in death by:
Brother: John (Joy) Lundmark
Grandson: Peter Francis Flagstadt
Nephew: Paul DeMay
Daughter in law: Lisa DeMay
Son in law: Gregg B. Johnson
Brothers in law: Rial Kenyon, Don Berman, John DeMay, Henry DeMay and James Kennedy
Willa's family will receive friends on Tuesday, from 1:00PM to 5:00PM, at the Skradski Funeral Home in Gladstone. Mass of Christian Burial will follow visiting hours, at 5:30PM on Tuesday, at All Saints Church in Gladstone, with Rev. Fr. Jamie Ziminski officiating. Luncheon will follow in the All Saints Parish Hall. Willa will be laid to rest next to her loving husband Pete in the Fernwood Cemetery in Gladstone. The Skradski Family Funeral Homes of Delta County are assisting with arrangements. Willa's family would like to extend a special thanks to the following for their exceptional care; the staff at Cedar Hill Assisted Living, OSF Hospice, Dr. Jaylene Iverson and the ladies at Clip Art.