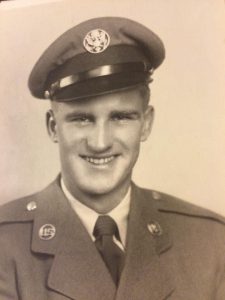 Rock Earl Miron, age 89 passed away peacefully surrounded by family, Friday, March 30, 2018 at UP Health Systems in Marquette.
Rock was born January 28, 1929 the son of Eugene and Celeste (Richer) Miron. Rock served honorably in the US Air Force for over 20 years.
Rock is survived by 6 children: Rock (Linda), Robert, Darell (Denise), Wayne (Lynn) Miron, April Brigandi and Adria (Ken) Keenan. His siblings: Tony (Rose) Miron, Everell (John) Verbrigghe, Gerald (Jean) Miron, Geraldine (Paul) Savolainen.
Rock is also survived by: 14 grandchildren, 16 great grandchildren, nieces and nephews and special friends Pam Bouty and Paula Bouty.
Rock is preceded in death by:
Parents: Eugene and Celeste Miron
Brother: Floyd Miron (Audrey)
Son In Law: Anthony Brigandi
Family will receive friends Tuesday, April 3, 2018 from 11:00 AM until 1:00 PM at the Skradski Funeral Home in Escanaba. Military Honors will be presented at 1:00 PM by the Delta County Veteran Council. Mass of Christian Burial will be at 2:00 PM at Holy Family Catholic Church in Flat Rock. Rock will be laid to rest in Escanaba Township Cemetery. In lieu of flowers memorial contributions may be directed to Holy Family Catholic Church Roof Fund. The Skradski Family Funeral Homes of Delta County are assisting the Miron family. Please