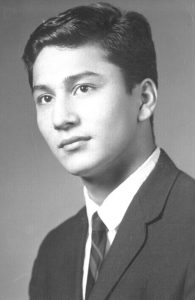 Raymond "Ramone" "Ray" James Lucier, age 68, of Brampton, Michigan passed away Sunday, November 25th, 2018 at his home.
Raymond was born March 13th, 1950, in Angeles, Pampanga, of the Philippine Islands to Joseph and Visitacion "Bessie" Lucier (Espiritu). The family later relocated to Brampton, Michigan. Ray started school in Kipling and graduated from Gladstone High School in 1968. He served in the United States Army at Fort Gordon in Georgia, ad spent time living in Naples, Florida with his first wife Christine Salley. Here, he attended college, worked as a police officer, and enjoyed fishing, crabbing, and time well spent with loved ones and friends. Ray returned to the UP in 1978 and worked for the Railroad, real estate, foster parenting, and lastly retired from the United States Postal Service.
Ray remarried in 1985 to Carmel LaFave (Olson), and raised four daughters in Rapid River, MI.
While living in Rapid River, he enjoyed shooting trap and skeet, ice fishing, hunting trips with his friends, and spending time at his family's camp.
Ray fulfilled his lifelong dream when he built a home on his family's land in Brampton. He enjoyed taking his daughters blue gill fishing, camping, and spending time outdoors with them. He loved carpentry and inventing. Ray was an avid bird watcher with a love of old western movies, history, journaling and painting. He liked to entertain guests by feeding them, showing off his collections, singing and playing guitar. Ray will be fondly remembered by his witty sense of humor and delight for telling stories about his travels and family history.
Raymond is survived by his daughters, Jennifer Leigh (Charles) Grimm of Davisburg, MI, Allison Leigh Lucier of Norway, MI, Emily Jane Lucier (John Gasperich) of Waterford, MI and Haley Rae (Patrick) Gasperich of Iron Mountain, MI. His brothers, Joseph A. Lucier and Jeff D. Lucier, both of Gladstone, MI. His sisters, Patricia M. (Ronald) Constantino of Brampton, MI, Betty I. Dahn of Gladstone, MI, Virginia (Dale) Demeuse of Howell, MI, Lucinda L. Lucier of Gladstone, MI. His grandchildren, Tristan Graham-Lucier, Madelyn Grimm, Natalie Rae Gasperich, and one on the way. His former wives, Chris Salley (Esposito) and Carmel LaFave (Olson).
Raymond is preceded in death by his parents, Visitacion and Joseph Lucier, brothers, Roger L. Lucier, Cris J. Lucier, sister, Lolly A. Miller, and nephews, Troy Stratton and Ryan Lucier.
Family will receive friends Saturday, December 1, 2018 from Noon until 1:45 PM at the Skradski Funeral Home in Gladstone. Military Honors will be presented at 1:45 PM by the Gladstone American Legion Post 71. Funeral services for Ray will follow at 2:00 PM at the Skradski Funeral Home in Gladstone with Rev. Fr. Jamie Ziminski officiating. The Skradski Family Funeral Homes of Delta County are assisting the Lucier Family.