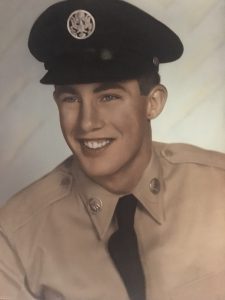 Norman "Norm" Boutilier (Butler), 80, of Gladstone, passed away unexpectedly, Wednesday, December 27, 2017 at home of an apparent heart attack.
Norman was born December 12, 1937 in Nahma the son of Gordon and Esther (Camps) Boutilier. He was raised in Gladstone, spending the summer months in Iron River, MI. He was a 1955 graduate of Gladstone High School. While at Gladstone High School, he participated in tennis, golf, basketball and football. Following graduation, Norm served his country in the U.S. Air Force from 1956-1960. Upon his honorable discharge and on his return bus trip home from Milwaukee, he spotted and met the former Sandra Soderstrom saying to himself "that is the girl I'm going to marry." Norm and Sandy were united in marriage on September 23, 1961 and raised their four daughters in Gladstone.
Norm worked at Mead Paper Company in Escanaba first as a laborer and later became a foreman. After 33 years of service Norm retired in 1995 where he started to enjoy life with his wife traveling to various places including Hawaii, Alaska and many trips to New Mexico.
Norm was a member of the First Lutheran Church in Gladstone, Gladstone Golf Club, and a former member of the Escanaba Elks. In addition to golfing, racquetball and being a sports enthusiast, Norm was an avid and dedicated Detroit Lions and Tigers fan.
In addition to his wife of 56 years, Sandy, survivors include:
Daughters:
Brenda (Bryan) Ferguson-Bernalillo, NM
Lori (Kelly) Shea of Gladstone
Gina Sitko of Virginia Beach, VA
Penny (Matt) Mollica of Hudsonville, MI
Sister: Myrna Besson of Boise, ID
Brother: Raymond Boutilier of West Melbourne, FL
Grandchildren:
Kailee (DJ Metzer fiancee') Shea of West Palm Beach, FL
Carson Shea of Gladstone
Megan Sitko of Mt. Pleasant, MI
Adam Sitko of Virginia Beach, VA
Anthony Mollica of Hudsonville, MI
Sisters-in-law:
Donna Boutilier of Gladstone
Beverly (Larry) Williams of Albuquerque, NM
Lois Holm of Albuquerque, NM
Sally Soderstrom, Rapid River
Numerous nieces, nephews and cousins, along with many special friends, also survive.
In addition to his parents, his step-father, Walter Johnson, infant grandsons, Aiden and Ethan Mollica, brother, Norbert "Toddy" Boutilier, brother-in-law, Marvin Besson and nephew Brian Boutilier preceded Norman in death.
Norm's family will receive friends on Tuesday January 2, 2018 from 3:00 to 4:45 pm at the First Lutheran Church in Gladstone. Military rites conducted by the Gladstone American Legion Post #71 will follow at 4:45 pm. Funeral services celebrating the life of Norman Boutilier will follow at 5:00 pm with Tom Otis, Pastor, officiating. Luncheon will follow in the First Lutheran Church Fellowship Hall. Please visit skradskifuneralhomes.com where you can express your sympathy to the family.
In lieu of flowers, memorial contributions in Norm's name can be directed to First Lutheran Church, Gladstone.