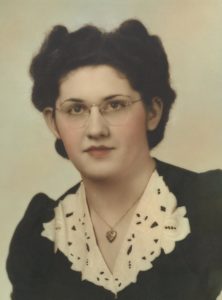 Lorraine "Betty" (Landis) Piippo, 94, formerly of Rapid River, passed away Thursday morning, February 13, 2019, at the Schoolcraft County Medical Care Facility in Manistique where she had resided the past two years.
Betty was born on November 30, 1924, in Escanaba, the daughter of Jacob and Margaret (Lang) Landis. She was the oldest of three children and grew up on the Landis family dairy farm in Isabella with her two brothers Jacob and Roy. She attended the Aspen School in Isabella for her elementary education and then Nahma High School graduating in 1943. She married Toivo "Ty" Piippo on January 21, 1950, in Chicago. He preceded her in death on December 18, 1985.
Betty and Ty lived for many years in Maywood, Illinois, where they both worked. They returned to the U.P. in 1973 to make their home in Ensign and finally in Rapid River.
Betty had many hobbies including weaving rugs, adoring her cats, attending and having rummage sales, sewing quilts, and was an excellent seamstress. She earned many ribbons at the U.P. State Fair. She was a member of the Gas and Steam Engine Association, and many people visited her at the Village while she worked on her rugs. She was a volunteer at the Gladstone Senior Center, and she was always busy helping with various activities in the area.
She and Ty had no children, and she was a doting aunt to her nieces and nephews. She always remembered them on birthdays and holidays and would bring them gifts when she came home on visits from Illinois. She looked forward to family gatherings and loved chocolate fudge frosting on birthday cakes and chocolate in general.
Betty was a very independent, self-made, articulate woman who let you know exactly where she stood on issues. She was quite particular about her personal appearance and had a very classy sense of style from head to toes: hats, scarves, dresses, heels, perfectly manicured and painted nails, and of course, coordinating jewelry. At 94 years of age, she still had manicured, long, painted nails and wore jewelry daily.
Of the many stories one could choose to tell, the following amusing one was related by her brother, Roy. About four years ago Roy took Betty on a shopping trip to Escanaba. It got to be lunchtime, but she really didn't want to go to a restaurant. Roy took her to a drive-thru, and she thought it was just marvelous as she had never done that before. She looked forward to it on subsequent visits.
Betty is survived by her brother, B. Roy Landis of Cooks, numerous nieces and nephews and their families, friends and neighbors, her cat "Kitty", and special canine friends "Milo" and "Maggie".
She was preceded in death by her husband, parents, brother Jacob, sisters-in-law Audrey Landis and Jessie Landis, and nephew Allan Landis.
Visitation for family and friends will be on Sunday, February 17, 2019, from 2 p.m. to 3:30 p.m. at the Skradski Funeral Home in Gladstone. Funeral services will follow at 3:30 p.m. with Reverend William Rafuse officiating. Betty will be laid to rest in the Rapid River Cemetery in the Spring.
In honor of her love for animals, especially cats, memorial contributions may be directed to the Delta Area Animal Shelter.