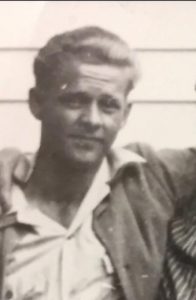 Leonard H. Mackie, age 93, of Escanaba passed away on Friday, February 9, 2018.
Leonard was born February 19, 1924 in Kipling, Michigan, the son of Matt and Elizabeth (Sutki) Mackie. He was united in marriage to Frances Cody on March 26, 1949 in West Branch, Michigan. They made their home in Wells where they raised their 6 children. Leonard served his country in the United States Army and was a World War II Veteran, receiving the Good Conduct Medal, the World War II Victory Medal, the American Theatre Campaign Medal and the EAME Campaign Medal with 3 Bronze Stars. He was a news junkie and proud of his Finnish heritage and his favorite quotes were "Got that out of the way" and "Good enough".
Leonard is survived by his daughters, Cheryl (Dave) Belongie of Gladstone, Linda Saari of Gladstone and Sharon (Joe) Pascoe of Escanaba; his sons, Lenny (Linda) Mackie of Escanaba, Randy (Jean) Mackie of Escanaba and Glenn (Melinda) Mackie of Florida; 9 grandchildren: Daryl (Nikki) Belongie, Dennis (Barb) Belongie, Boomer (Teri) Mackie, Amy Mackie, Chris (Carrie) Saari, LeeAnne (Jeff) Iverson, Jeffrey (Jill) Pascoe, Jason (Rachel) Pascoe and Matthew Polfus; 16 great grandchildren; his brothers, Lawrence "Howard" Maki of Escanaba and Ray (Audrey) Makie of Gladstone; his sister, Elvera Kallio of Grand Haven, Michigan and numerous nieces and nephews.
He was preceded in death by his wife, Frances, brothers, Donald, William, Toivo and Robert Maki and his sisters, Hilda Maki, Marie Haga, Ila Erhenberg, Lillian Carlson, Sadie Artley, Saimi Nelson and Ida Creten
A Memorial Service will be held on Monday, February 19 at 2:00 PM at Christ the King Lutheran Church in Escanaba with Pastor Chris Johnson officiating. A luncheon will follow in the fellowship hall.
The Mackie family is being assisted by the Skradski Family Funeral Homes.