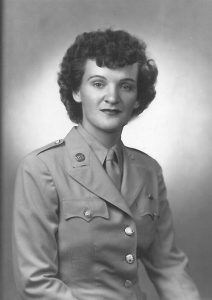 Josephine K. "Josie" Kinkella, age 98, of Gladstone, passed away Thursday morning, January 11, 2018, at Bishop Noa Home in Escanaba.
Josie was born November 20, 1919, in Gladstone, the daughter of Fredrick
and Barbara (Frankovich) Kinkella. Josie was raised in Gladstone and
attended the Buckeye, All Saints and Gladstone schools. She went on to work
at Abbott Laboratories, in North Chicago, before enlisting in the WAC
(Women's Army Corps) in 1943 where she served for 32 months in
Casablanca, North Africa. Following her honorable discharge, Josie attended
cosmetology school in Iron Mountain. She later worked for Marble Arms and
Marble Electric, which later became Eaton Corporation, retiring from Eaton
Corporation after 45 years of employment. Josie loved to dance, bowl, knit,
play cards and take an occasional trip to the casino.
Josie was preceded in death by her parents, Fredrick and Barbara:
Sisters: Florence DeSmet and Angela Gregorich
Brothers: Alfred Kinkella and Dr. Albert Kinkella
Sister in law: Evelyn Kinkella
Dear Friend: Tim Katarincic
Josie is survived by her 9 nieces and nephews, several cousins and her very
dear friend Ardy Katarincic.
Mass of Christian Burial will take place on Friday January 26, 2018, at 1:00PM, at All Saints Catholic Church in Gladstone, with Rev. Fr. Jamie Ziminski officiating. Josie will be laid to rest in the Fernwood Cemetery in the Spring. The Skradski Family Funeral Homes of Delta County are assisting with arrangements.