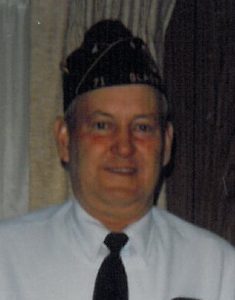 James E. Noel, 87, of 912 Michigan Avenue, died peacefully at home surrounded by his loving family on Christmas Eve, December 24, 2017.
James was born the son of Thomas Lee and Lorraine (Counterman) Noel on September 11, 1930 in Wells, MI. He was raised and attended schools in Wisconsin and Michigan. James enlisted in the U.S. Air Force at the age of 17. He served during the Korean War from 1948-1952. He reenlisted in the U.S. Air Force from 1958-1962. Following his honorable discharge, he served in the Michigan National Guard for 22 years. He retired with an accumulation of 30 years in military service as a Platoon Sgt.
James also worked for T.D. Vinette Company in ornamental steel and iron fabricating in Escanaba, also for Harnischfeger Corporation and he was a plumber and pipefitter for local 506 when he retired in 1991.
James was united in marriage to the former Elaine Joyce Leach on October 12, 1963. He was a member of the August Mattson Post #71, American Legion in Gladstone for over 50 years. He was past commander of Chef De Gare 40/8 Voiture Local 663. He served as past president of the Men's Dart ball League, Gladstone Smear League and Gladstone Pool League.
James was an active hunter and fisherman. He also enjoyed bowling, reading and going to the casino.
In addition to his parents, his daughter, Cheryl Johnson and brother, Robert Noel preceded James in death.
In addition to his wife, Elaine Joyce, survivors include:
Children:
Joyce Kutha
Christine Johnson
Mike (Diane) Noel
Steve (Shelly) Noel
Bruce (Taiki) Goodman
Grandchild: Robert Gallagher
Great grandchild: Laura Gallagher
Sisters:
Grace Waydick of Racine, WI
Alice Noel of Oceanside, CA
Sister-in-law: Idana Noel of Walla Walla, WA
Numerous aunts, uncles, nieces, nephews and cousins also survive.
James's family will receive friends on Saturday December 30, 2017 from 1:00 to 3:00 pm at the Skradski Funeral Home in Gladstone. Military rites conducted by the Gladstone American Legion Post #71 will follow at 3:00 pm. Luncheon will follow at the Gladstone American Legion Hall. Burial will be in the Spring of 2018 at the Fernwood Cemetery in Gladstone.