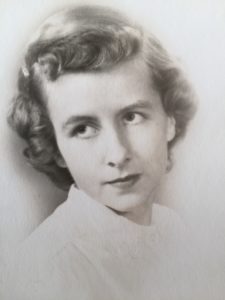 Delores Mae (Laviolette) Markham, age 85, of Gladstone passed away on Monday, February 18, 2019 at Lakeview Assisted Living in Gladstone.
Delores was born May 23, 1933 in Escanaba, the daughter of Leo and Helma (Holm) Laviolette. She was raised in Escanaba and graduated from St. Joseph High School in 1951. Delores was united in marriage to Harrie B. "Rusty" Markham on May 1, 1954 at St. Joseph Catholic Church in Escanaba. She was an Air Force wife and she and Rusty raised 5 children in Texas, Kansas, Illinois and their beloved U.P. As a Hospice volunteer for many years, and a Reach to Recovery volunteer helping women who have had mastectomies, she shared her love for humanity and comforted many who were suffering. She was a Real Estate Broker for Century 21 Real Estate for a time in Illinois. Delores loved the out of doors, taking walks and hiking, the changing seasons, skiing, camping, family, reading, flowers, birds and her beloved home "Riverbend".
Delores is survived by her daughters, Kathy (Mike) Bladow of Kimball, MI, Jeanne (John) Lindberg of Gladstone and Janet (Daniel) Cronkright of Shepherd, MI; her sons, Jeffery (Brenda) Markham of Gladstone and Stephen Markham of Iron River, MI; 13 grandchildren, 2 great grandchildren; sisters-in-law, Janet Gustafson of Gladstone, Dolly Laviolette of Rockford, IL, Joyce Laviolette of Escanaba and numerous nieces, nephews and cousins.
She is preceded in death by her husband Rusty, her parents, brothers, Ray Fish and Leo and Paul Laviolette and sisters, Pearl Giglia, Maryann Provencher and Gwinlyn Guindon.
The family will receive friends on Saturday, February 23 from 12:00 PM to 1:30 PM at the Skradski Funeral Home in Gladstone. Mass of Christian Burial will be 2:00 PM at All Saints Catholic Church in Gladstone with Fr. Jamie Ziminski officiating.