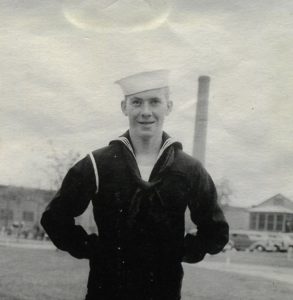 Charles "Charlie" Lundmark, age 91, of Gladstone passed away on Tuesday, November 6, 2018.
Charlie was born April 2, 1927 in Gladstone, the son of Herbert and Nettie (Anderson) Lundmark. He was raised in Gladstone and graduated from Gladstone High School in 1945. Following high school, he served in the United States Navy and was Honorably discharged. Charlie was united in marriage to Carol Royer on December 26, 1960 at All Saints Catholic Church. He was a member of the Memorial United Methodist Church, the Gladstone American Legion Post 71 for over 70 years, and the Gladstone and Bark River Lions Clubs, where he served as Past District Governor. Charlie worked for many years at various positions for the U.S. Postal Service, retiring as the Postmaster in Gladstone in 1987. Charlie especially enjoyed volunteering with the Lions Organization, Northwoods Air Lifeline, U.P. Honor Flight and ABATE.
Charlie is survived by his wife, Carol of Gladstone, sons, Steve (Leslie) Lundmark of Sterling Heights, MI and John Lundmark of Gladstone; daughter, Patti (Mike) Multerer of Gladstone; grandchildren, Trey and Lindsey Lundmark and Austin Cossette and numerous nieces and nephews.
He was preceded in death by his parents, his brother, John and his sister, Willa Demay.
The family will receive friends on Saturday, November 10 from 1:00 PM to 3:45 PM at the Skradski Funeral Home in Gladstone. Military Honors will be presented at 3:45 PM by the Gladstone American Legion Post 71 and the United States Navy Honor Guard. Funeral services will follow at 4:00 PM. Following the services, a luncheon will be held at the Lake Bluff Retirement Village.
Memorial contributions may be directed to the U.P Honor Flight or the Northwoods Air Lifeline, P.O. Box 2973, Kingsford, MI 49802-2973