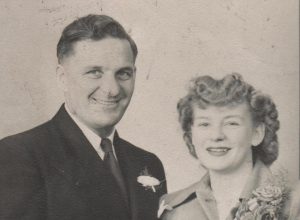 Agnes "Aggie" K. Bougie, 90, of Escanaba, passed away Thursday morning, June 21, 2018 at her home with her daughter close at hand. She was born August 8, 1927, in Escanaba, the daughter of Joseph Jr. and Helen Khollman (Peterson). Aggie was raised in Escanaba, and was a 1946 graduate of Escanaba High School. She married the late Bernard J. Bougie on September 8, 1947 in Escanaba. Together, the couple raise two children, Wayne and Linda. She was employed at the Escanaba Senior High School as the Head Cook for 31 years; where she proudly carried the nickname dubbed by students as "Sarg". Aggie could not always recall names, but no matter what she always greeted others with a warm smile and a "Hello there, Charlie Brown". She was an active member of St. Anne's Catholic Parish, where she was seen weekly before mass praying her rosary. Family meant the world to Aggie which was evident when you entered her home by seeing the collection of photos proudly displayed on her walls. She was also an amateur painter, which she also displayed proudly.
Agnes K. Bougie is survived by her son, Wayne (Maureen) Bougie of Escanaba; daughter, Linda Bougie-Dionne of Escanaba; granddaughters, Lisa (Michael) Glish of Escanaba and Laura (Jason) Figas of Wausaukee, WI; great-grandchildren, Cecilia, Christopher, Balin, Chance, and Bryer; sister-in-law, Dinah Khollman of Texas; nephews, Jim (and Susan) Cody and Tony (and Arlene) Cody; special friends, Rosie Blake, Peggy Rain, and Lois Ice; grand-og-ter, Shelby; along with numerous nieces and nephews.
In addition to her husband and parents, she was preceded in death by her brothers, Alfred Clark, Fredrick Khollman, Ralph Khollman, Henry Khollman, Thomas Khollman; and sisters, Loretta Cody, Josephine Fugere, Bernice Dawson, and Laverne Woodson.
Aggie's family will receive friends on Monday, June 25, 2018 from 10:00 to 11:45 am at the St. Anne Catholic Parish in Escanaba. Mass of Christian Burial will follow at 12:00 noon with Fr. Fran DeGroot officiating. Luncheon will follow in the St. Anne Parish Hall. The Skradski Family Funeral Homes of Escanaba and Gladstone are assisting the Bougie family.